Child Dynamix Community Nursery Savoy Road opened in 2010 situated in part of the Ings Centre, within the grounds of Ings shopping centre. This means there is lots of space and parking to be able to drop off and collect your child.
As the nursery sits within a community of local shops and is also in walking distance to East Park, we are able to extend the children's learning beyond the confines of the nursery walls. Our nursery is open plan, with the kitchen as the focal point. The open plan space means children are able to form relationships with all children who attend our setting as part of their time at nursery. This supports their own confidence, sense of security and belonging as they are seen as part of their nursery and connect with children of different ages.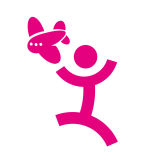 Child Dynamix Savoy Road is open from 8am – 6pm, with an option to take up an Early Bird session from 7.30 for an additional charge.
Our morning session is from 8:00 am until 1:00 pm
Our afternoon sessions start at 1:00 pm until 6:00 pm
Lizzie Darnell-Wragg is our Nursery Manager and is supported by Tanya Musgrave, Assistant Nursery Manager and Victoria Houfe, Senior Nursery Practitioner. Lizzie also leads safeguarding and child protection for the setting and Tanya oversees provision for children with additional needs as our SENDCo.
Our team are all qualified members of staff, who offer the very best opportunities for your child to grow and learn through stimulating, fun activities and learning opportunities. (See biographies at the bottom of the page)
2, 3 and 4-year-old free Early Years Education Funding
2-year-old funding – some families are eligible for 15 hours free early education funding which can be taken in our nursery. Please contact us to check if you are eligible.
All children aged 3 and 4 are eligible for 15 hours of free provision for 38 weeks of the year. This offer can be altered with reduced hours over the whole calendar year. Children can access their place the term after their 3rd birthday. If you are a working family, you may be eligible for a further 15 hours allowing 30 hours of free childcare
For more information please see the following link; https://www.childcarechoices.gov.uk/
Our curriculum is based on the Early Years Foundation Stage and we use 'What to Expect When' as a tool to understand your child's development. If you have any queries regarding our curriculum feel free to get in touch. And you can keep up to date with how your child is progressing using our Parenta online system – log in and find out everything to do with your child in our nursery, from your invoices to their last picture.
Meals and Healthier Options Award
We provide healthy and nutritious meals for all our children and can cater for any food allergies/intolerances. We were awarded the Healthier Options Award by Hull City Council for our provision of Healthier food choices! If you have any questions or would like to discuss the nursery contact us about your childcare needs.
Food Hygiene Rating of 5 (top marks!) from the Food Standards Agency.
We offer opportunities for your child to spend time in our setting as part of our approach to support you and child to get used to nursery life.
In 'normal' times we also offer a weekly stay and play session which also enables you and your child to get to know our team, and get involved in activities together helping you to become familiar with these new surroundings. Unfortunately stay and play session are currently on hold. If you are interested, please do get in touch and we can arrange to contact you once they recommence.
We offer a Holiday Club for children of primary school age. We plan for their time in the setting to be able to offer more age appropriate activities and experiences. When possible we also arrange trips out to local places and events.
The holiday club is available during all school holiday with limited availability at Christmas. The Club is available from 8am to 6pm with Early Bird from 7.30am for an additional charge.
At Child Dynamix Community Nursery – Savoy Road we have a number of different sessions available including Full days and Half Days and we even offer Hourly Sessions. We also have Holiday clubs across all major school holidays.
Please see the details below for the fees
8.00am – 1.00pm / 1.00 – 6.00pm

8.00am – 1.00pm / 1.00 – 6.00pm

7.30-8.00am Subject to Availability

8.00am – 1.00pm / 1.00 – 6.00pm
Stay and Play
Contact us to arrange your FREE Stay and Play session to come along and see our facilities and speak to our nursery team, who will be happy to answer any questions you may have about your childcare needs.
Nursery - have a look around
Our nursery is well equipped, light and airy with plenty of natural light. The physical layout means we have three age and developmentally appropriate spaces for children. There is access to a shared outside space which can adapt to the needs of the children, and the baby room has a separate outdoor area under a canopy. We work hard to make our garden a natural environment for children to explore, with an outdoor kitchen and a woodland feel, offering them a wonderful places to play and learn.
The separate nursery office opens up directly in to the nursery area, with separate laundry and storage spaces. Our kitchen is a professionally equipped, and the nursery cook provides fresh meals each day. Naturally we take account of any dietary need and would be happy to discuss this with you.
Due to current restrictions we are unable to offer visits to our setting during the day, we can arrange a show-around at 7.30am or after 6pm but hope the photos below help you to get a sense of our nursery. Please be reassured that should you choose to take up a place, we will ensure you and your child get plenty of time to 'settle-in' before your child starts.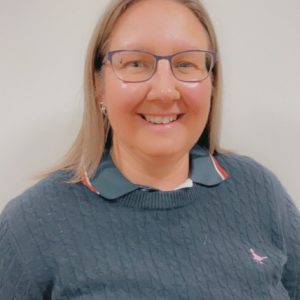 Hi I'm Lizzie Darnell-Wragg, and I am currently the Nursery Manager at Child Dynamix Community nursery – Savoy Road. I started my career at Child Dynamix, as part of the team at Janet Genter Community Nursery (now known as Child Dynamix community Nursery) as an adult trainee in April 2003, after serving as a mechanic in the Army.
I completed a L3 in Early Years Care and Education as an adult trainee and have since completed a BA honours degree in Early Year's Policy and Practice. I have now worked for Child Dynamix for 18 years, and progressed on through positions, and managed our Preston Road nursery for 11 years, before moving to the Savoy Road Nursery in February this year. I am currently studying a Masters in the lifelong learning and I am interested in supporting vulnerable adults with their learning and development, as well as enhancing the breadth of knowledge for early year's practitioners.
Seeing children grow and develop from babies, to now seeing some of them as parents themselves, gives me overwhelming pride and hope that I inspire others to achieve the most out of their lives.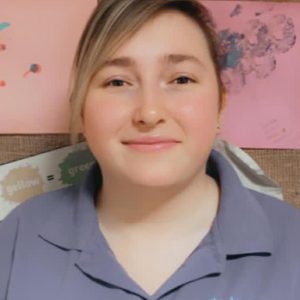 I have worked for Child Dynamix since October of 2016 and have over 10 years' experience of working with children between the ages of 6 weeks and 5 years. I began at the Boulevard nursery when it opened with Naomi and the rest of the team, and I am now based at Savoy Road.
Since starting with Child Dynamix I have completed my foundation degree in Childhood Studies and then continued my development by completing a BA in Early Childhood Education and Care
I am the appointed SENCO for the Savoy Road nursery and have lots of experience working with children with Special Educational Needs. I keep up to date with SENDCo training and like to know how best to support our SEND children.
When I was younger, working with children was never anything I wanted to do, I wanted to be a nurse. That was until I completed my work placement at my former primary school – I changed my mind within half an hour! From then on I wanted to work with children, my aim was to be a teacher in a primary school but the more time I have spent in private day nurseries, the more I have wanted to help younger children.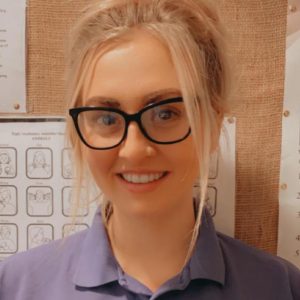 I began with Child Dynamix as a student in 2015. After 6 months I was offered a supply practitioner contract, followed by an offer of a fulltime position in the baby room in October 2016. I was delighted to apply and be appointed as the nursery's Senior Practitioner in July 2019 a position I still hold.  
It is a real pleasure to work with the youngest children in our setting, and to be around for those first development millstones such as walking and talking. Seeing our babies grow, being able to watch them go from strength to strength knowing 'I have helped to achieve this', always makes me go home with a smile on my face. I like being able to offer that extra help and support to our families, the children and my colleagues – I work alongside a fantastic team of practitioners.
Although I have spent time in other areas of the nursery, my main experience is based within the baby room, and the baby room is where my heart lies.