Child Dynamix Community Nursery – Boulevard opened its doors within the St Andrews ward in 2016 to offer early education and childcare places. We wanted to help meet the gap for affordable childcare that families in the community faced. The nursery team work closely with the wider Child Dynamix charity and local organisations to ensure we provide the best service and support to our families with an holistic approach.
We have a diverse staff team that mirrors our community, many of our staff are multi lingual and happily support families who have English as an additional language.
We have a flexible approach to children's session times as we understand that at times our standard sessions do not work for every family.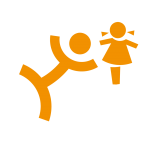 Child Dynamix Community Nursery Boulevard is open from 8am – 6pm, with an option to take up an Early Bird session from 7:30 am for an additional charge.
Our morning session is from 8:00 am until 1:00 pm
Our afternoon sessions start at 1:00 pm until 6:00 pm
Naomi Clark is the charity's Head of Childcare and Manager at the Boulevard nursery. She leads safeguarding and child protection, and is the named SENDCo. Naomi is supported by Becca Broadbelt as Assistant Manager, Becca deputises in Naomi's absence and also assists with our SEND work. Sandra Bahh is our Senior Nursery Practitioner who leads our connections to the local community.
Our team are all qualified members of staff, who offer the very best opportunities for your child to grow and learn through stimulating, fun activities and learning opportunities. Meet the team below (at the bottom of the page).
2, 3 and 4-year-old free Early Years Education Funding
2-year-old funding – some families are eligible for 15 hours free early education funding which can be taken in our nursery. Please contact us to check if you are eligible.
All children aged 3 and 4 are eligible for 15 hours of free provision for 38 weeks of the year. This offer can be altered with reduced hours over the whole calendar year. Children can access their place the term after their 3rd birthday. If you are a working family, you may be eligible for a further 15 hours allowing 30 hours of free childcare
For more information please see the following link; https://www.childcarechoices.gov.uk/
Our curriculum is based on the Early Years Foundation Stage and we use 'What to Expect When' as a tool to understand your child's development. If you have any queries regarding our curriculum feel free to get in touch. And you can keep up to date with how your child is progressing using our Parenta online system – log in and find out everything to do with your child in our nursery, from your invoices to their last picture.
Meals and Healthier Options Award
We provide healthy and nutritious meals for all our children and can cater for any food allergies/intolerances. We were awarded the Healthier Options Award by Hull City Council for our provision of Healthier food choices! If you have any questions or would like to discuss the nursery contact us about your childcare needs.
Food Hygiene Rating of 5 (top marks!) from the Food Standards Agency.
We offer opportunities for your child to spend time in our setting as part of our approach to support you and child to get used to nursery life.
In 'normal' times we also offer a weekly stay and play session which also enables you and your child to get to know our team, and get involved in activities together helping you to become familiar with these new surroundings. Unfortunately stay and play session are currently on hold. If you are interested please do get in touch and we can arrange to contact you once they recommence.
We offer a Holiday Club for children of primary school age. Reorganising spaces within the nursery, children who attend the Holiday Club spend time in the main nursery space as well as opportunities to go out and about. With your consent, we can arrange trips to the cinema, go bowling and look around local museums – taking a less formal approach to the day!
The holiday club is available during all school holiday with limited availability at Christmas. The Club is available from 8am to 6pm with Early Bird from 7.30am for an additional charge.
At Child Dynamix Community Nursery – Boulevard we have a number of different sessions available including Full days and Half Days and we even offer Hourly Sessions. We also have Holiday clubs across all major school holidays.
Please see the details below for the fees
8.00am – 1.00pm / 1.00 – 6.00pm

8.00am – 1.00pm / 1.00 – 6.00pm

Maximum 2 hours Subject to Availability

7.30-8.00am Subject to Availability

8.00am – 1.00pm / 1.00 – 6.00pm
Stay and Play
Contact us to arrange your FREE Stay and Play session to come along and see our facilities and speak to our nursery team, who will be happy to answer any questions you may have about your childcare needs.
Nursery - have a look around
Our building was converted and redesigned into a large open space which is light and airy and well equipped. Split into two rooms, one for children under 2 years old and the other for children over 2 years old, we can provide for the different needs of children as they grow and learn.
Each room has access to a shared outside space which offers lots of different opportunities and experiences. We have a Mud kitchen, can hunt for mini beasts, with lots of space for imaginative ideas and to run and play.
There is a separate nursery office, laundry and storage spaces. Our kitchen is professionally equipped, and the nursery cook provides fresh meals each day. Naturally we take account of any dietary need and would be happy to discuss this with you.
Due to current restrictions we are unable to offer visits to our setting during the day, we can arrange a show-around at 7.30am or after 6pm but hope the photos below help you to get a sense of our nursery. Please be reassured that should you choose to take up a place, we will ensure you and your child get plenty of time to 'settle-in' before your child starts.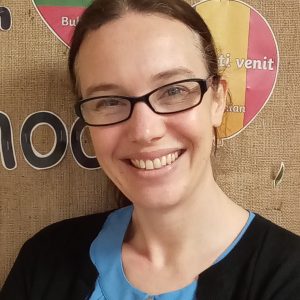 I have worked for Child Dynamix for 20 years and led and managed Nurseries since 2007. With that experience I make sure Boulevard Nursery is able to provide for and support your child through my amazing team. We are dedicated to making sure your child has the very best experience and opportunities.
I really enjoy working with the children and to see them grow. They can achieve so much in their early years and I want to help them achieve their developmental milestones throughout their time with Child Dynamix and in their preparation for 'School'.
I have a degree in Early Years and have an early years teaching qualification known as the 'Early years Professional status'. I lead on safeguarding & child protection and Special Educational Needs in the Nursery.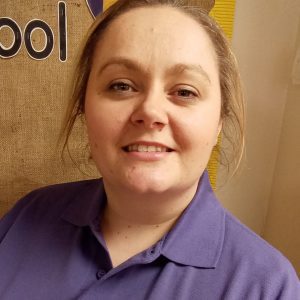 I first starting working for Child Dynamix in 2019 as a Nursery Practitioner and through my time here worked up to become Assistant Nursery Manager. My role is a mixture of supporting staff and children, providing a caring environment, planning activities and working closely with SEND as well as assisting the Nursery Manager.
Working with children became a passion of mine from my teen years, when I began to babysit for younger relatives. I knew then that this was what I aspired to do.  At college I completed Level 3 Btec in Childcare and I now have 15 years of experience working within a nursery environment in a range of different roles.  I have also completed a level 3 management qualification which has supported me in my current role.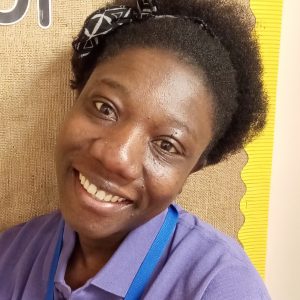 My passion for working with children began when I started my teacher training education. The course content made me realised the important role a teacher and for that matter a nursery practitioner plays in the lives of children and young people.
I started working with Child Dynamix in October 2016 when the Boulevard setting was opened. In all I have worked with children and young people for about thirteen (13) years. I currently hold Senior Practitioner role in the Boulevard setting; ensuring that children play, learn and thrive in a secure and nurturing environment. I also work closely with my manager and assistant manger to ensure the smooth running of the setting, as well as supporting my colleagues where necessary. I recently had the opportunity to work as a Community Family Support Worker within the organisation for about five (5) months. During this time, I worked closely with some of our families supporting them in whichever way they needed help.
I hold a Bachelor of Education (Science) degree. I am a trained teacher. I currently hold a Post Graduate Certificate in Early Childhood Care and have completed the Early Years Professional Status program.