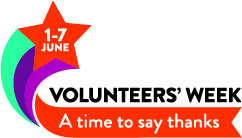 Volunteers' Week 1st – 7th June.
We are saying thank you to all our volunteers!
Trustee retirement
We would like to send our best wishes to Helen, following her decision to retire from our Board of Trustees. Helen got involved in the Voluntary and Community Sector following a love of volunteering which started in her teens and early 20's. Helen became a Trustee in 2015, and as Chair of the HR and Scrutiny Committee has given significant time and expertise to Child Dynamix. 
Bryan Bradley, Chair of Trustees said
"Whilst we are saddened to lose Helen as a volunteer and trustee we would like to recognise her contribution to the charity over the years and wish her well with future endeavours."
Our CEO, Caroline East said
" It's so natural for Helen to help and shared her years of experience within with us. Child Dynamix is a richer organisation because of the contributions Helen has made which has had a direct impact on the lives of local children and young people. I wish her well in her new venture and thank her for the support she has offered, particularly in the last year with the challenges Covid has brought".
 37th annual #VolunteersWeek it's time to say