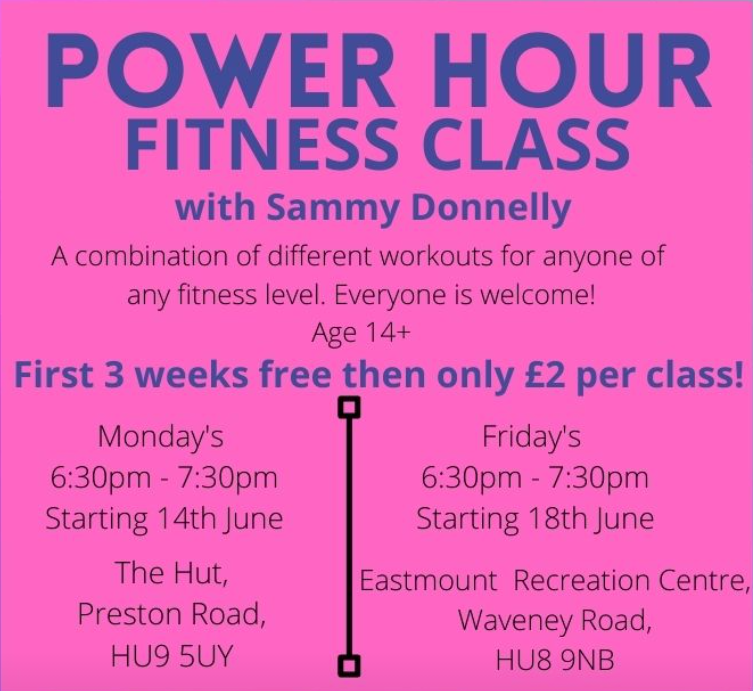 Power Hour with Sammy Donnelly
A brand new fitness class designed for all abilities! 
Power Hour!
If you live in East Hull and want to participate in a brand new fitness class, then we can help! Thanks to funding from The People's Postcode Trust, a grant has been awarded to us at Child Dynamix to begin a new fitness programme, Power Hour, which is open to everyone over the age of 14 regardless of fitness level.
The brand new Power Hour class will be a combination of HIIT, aerobics and dance; a brilliant combination which will ensure there's something for absolutely everyone! There will be an emphasis on making sure the classes are fulfilling the attendees wants and needs, crafting each lesson carefully to suit everyone. The classes are most definitely for every fitness level and ability, the main goal is come down, join in and have a giggle!
The classes will be delivered by Sammy Donnelly who has worked with the charity on numerous occasions, notably working in partnership with Sammy's dance school 'Little Stars Musical Theatre', who went on to win Humberside Rock Challenge Youth Division for 2 years in a row. This isn't the first time Sammy will be leading a fitness class with the charity either, in 2019 and early 2020, Sammy was leading the successful Clubbercise classes which got people fit and moving by exercising to great club music with the assistance of glow sticks! Sammy's main aim with fitness classes is to make sure all participants feel comfortable in what they're doing and most importantly, they have fun.
Children and Family services manager, Amie Wheal said:
"It's so nice to be welcoming Sammy back to the Hut and to see her also delivering classes at Eastmount. Sammy has such a brilliant way of making people who attend her classes feel at ease and really enjoy themselves throughout. We're really excited to be bringing back sessions and classes to the area which encourages a bit more social interaction after such a long and hard year for so many people in the community. We're hoping that these classes will help not just people's physical health but also they're mental wellbeing".
Power Hour will be held weekly beginning 14th June, Monday's and Friday's at 6:30 pm – 7:30 pm. The first 3 sessions are free, then £2 per person thereafter.
Monday classes (14th June onwards) will be held at The Hut, Preston Road, HU9 5UY.

Friday classes (18th June onwards) will be held at Eastmount Recreation Centre, Waveny Road, HU8 9NB